April 26, 2023
Start with a Spark: How to Find Stories for Your Non-Profit Promotions
Do you need to create powerful and engaging stories for your non-profit organization's growth? Stories can be a powerful tool for creating an emotional connection with your audience and, more importantly, inspiring action.
So, how do you get started?
Here are some tips for gathering stories for your non-profit organization's promotions:
1. Get to know your audience. Before you start collecting stories, it's important to know who you're trying to reach. Take the time to understand your target audience's interests, values, and beliefs. This will help you narrow down the types of stories you should seek.
You might be tempted to say, "Of course we already know who we serve." However, in these days of fast-shifting priorities and needs, when did you recently look at the avatar of the clients you serve? The last four years (this is 2023) have significantly changed how people interact and behave with the world. Do you know who you are serving now?
2. Ask the right questions. When interviewing people for stories, asking the right questions is important. Ask open-ended questions that will encourage them to share their stories. Avoid yes or no questions and focus on questions that get to the story's heart.
3. Listen. When gathering stories, it's important to be a good listener. Listen to the stories that people are telling you and ask follow-up questions to get more information. This will help you understand the story better and help you craft a compelling narrative.
4. Focus on the human element. As you're gathering stories, focus on the human element. People are more likely to be moved by stories that feature real people. Look for stories that show your non-profit organization's impact on real people's lives.
5. Don't forget the visuals for online presentations. Visuals are a great way to bring stories for non-profit to life. Look for opportunities to incorporate these into your storytelling. This could be photographs, videos, graphics, or other types of illustrations.
Following these tips for finding stories for a non-profit organization's promotions, you can create powerful, engaging narratives to help you achieve your goals. Start gathering stories and start making an impact!
************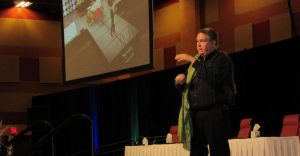 Sean Buvala has been working in the field of narrative and storytelling since the 80s, long before the fad of everyone suddenly teaching storytelling. From classrooms to boardrooms, he's long considered himself a practical practitioner of storytelling rather than a talking head for theories. If you'd like to bring Sean into your org for workshops or training, reach out to seantells at gmail dot com and start the conversation.
Photo at article top by UX Indonesia on Unsplash
Tags:
business
charity
community
ngo
non profit
nonprofit
sean buvala
service
stories for nonprofit
storyteller
storytelling
technique