June 16, 2018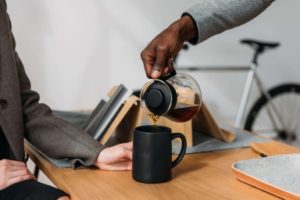 When I talk about corporate storytelling, I am referring to storytelling that is used to enhance any aspect of a business or nonprofit organization. Although the phrase "business storytelling" is a still a fad now, there remain many good things that storytelling can do for business.
I'm urging you to be gentle in your introduction to narrative communication. Here are three things you need to be aware of when you want to tell stories in business settings:
1. Don't start with "Now, I am going to tell you a story."
Most likely, there are people in your company who think that storytelling is just for children. Do not telegraph to your audience that you are about to begin a story. Rather, just lead naturally into the telling. For example, don't say: "Now, I'd like to tell you a story about a boy named Jack who traded a cow for magic beans." Rather, you should say something like, "In our (business) we're often faced with trying to make the best of a bad situation and the results can be surprising. Do you remember Jack whose mother told him, 'Go sell the cow…'"
2. Develop a repertoire of short, to-the-point tales.
Especially in the beginning, you will need to be able to ease into your storytelling. If you come from an environment where cutting-edge communication consists of animated slides shown on a screen, you will need to have short stories to illustrate your points. In cases like this, learning to tell a large handful of Aesop's Fables, for example, will help you a great deal.
3. Storytelling in a business needs to start in one area of the company.
Although you might be enthused about recreating your company's story with good storytelling, focus first on one department at a time. I have seen this reality in several companies where I was hired as a storytelling coach. In any company, there is going to be resistance to storytelling as a business tool, with plenty of resentment that anyone would waste valuable time on "soft skill" training. Instead of fighting these beliefs, find the one department of your company that is enthusiastic and let them lead the way into this powerful means for your company to communicate.
These are some essential ideas about storytelling in business. Overall, I would urge you to start slowly and deliberately with your story-based presentations. Ramp-up to greater inclusion and change.
****
Sean Buvala has been storytelling and training for over 30 years both in corporate and traditional situations. Photo courtesy of Deathtostock.
Tags:
business storytelling
getting started
sean buvala
storyteller