October 9, 2017
From the days of the earliest storytellers, people have spoken to each other to convey common human experiences. Sharing these experiences brings together people from many different lifestyles and helps them to connect.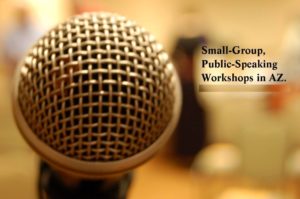 Every day, you are on the receiving end of public speaking. For the most part, you might not even be aware that someone is "doing" public speaking. The best speakers and presenters speak in a natural way that invites you to make some change in your life, no matter how small. There are four essential purposes of public speaking, listed below in random order:
1. To Entertain.
It seems that the best public speakers these days tend to be the comedians and storytellers who can make us laugh or touch our emotions. If you have good storytelling techniques, you can command the attention of any audience. As a public speaker, you can lift the spirits of your listeners through an entertaining presentation and still any of the items listed below as well.
2. To Educate.
A well-prepared public speaker can help anyone of any age learn new ideas, concepts and skills. In formal settings such as schools, a good speaker moves students beyond "Do I hafta learn this?" to "I can't believe I learned so much!" Outside of learning institutions, there are many places for anyone to give great educational speeches such as community organizations and health-care institutions. Smart people of any age always want to learn and there is a place for you to teach with public speaking.
3. To Convince.
If you want someone to change his or her mind about a subject, then public speaking is the key to that change. While the Internet has brought us many ways to be in touch, the well-told story from an authentic speaker is still King in communication.
4. To Inspire.
While the "motivational speaker" may be a cliche that is abused on comedy shows, a person who is passionate about their topic and has coupled that with effective audience-reaching speaking skills can inspire both young and old to reach for something beyond themselves.
While most public speakers try to create positive messages, it is possible to fall into a fifth reason for speaking: to manipulate. When you speak, think about your goals and reason for speaking. Are you trying to build up your community and the people in it? Or, are you attempting to build up something or someone through false stories and lies? Be wary of manipulating your audience through your speeches.
Public speaking can be fun and educational for both your audience and you. Create some good presentations today.
************
Many people are nervous about public speaking, but a good coach and teacher can help you overcome that hurdle. The author, Sean Buvala, has been speaking about and training clients in the use of storytelling techniques for public speaking since 1986. Hundreds of companies and thousands of individual learners have experienced his work as a coach. He is the executive director of Storyteller.net and lives in Arizona.
For more information about Sean's half-day workshop that teaches you to harness the power of business, nonprofit and corporate storytelling, please visit our website at http://seantells.com/morethanspeaking.
Tags:
business
communication
morethanspeaking
public speaking
story
storytelling